With the rapid rise in the number of bitcoin scams, there are easy ways to check if a bitcoin address has been reported as being used by scammers, such as in fake bitcoin giveaways. You can also easily report any bitcoin address associated with a scam.
Check the 'Bitcoin Abuse' Database
The number of bitcoin scams has been rapidly rising. Many of them ask people to send bitcoin to the addresses they provide, such as bitcoin giveaway scams that promise to double the amount of bitcoin you send. The great Twitter hack last week, for example, had many high-profile accounts tweet about fake bitcoin giveaways.
Before sending your bitcoin to an address, you can check to see if that address has been reported as one being used in a scam. Bitcoin Abuse is a popular website with a public database of bitcoin addresses used by hackers and criminals. You can look up a bitcoin address, report a scam address, and monitor addresses reported by others.
If the bitcoin address you are searching on the site has been reported by others, the site will display information, such as the number of times the address has been reported, the last report date and time, the total amount of bitcoin it has received, and the number of transactions. There will also be a link to Blockchain.info for you to track the transactions for the address. The site will also display all the reports filed on the address.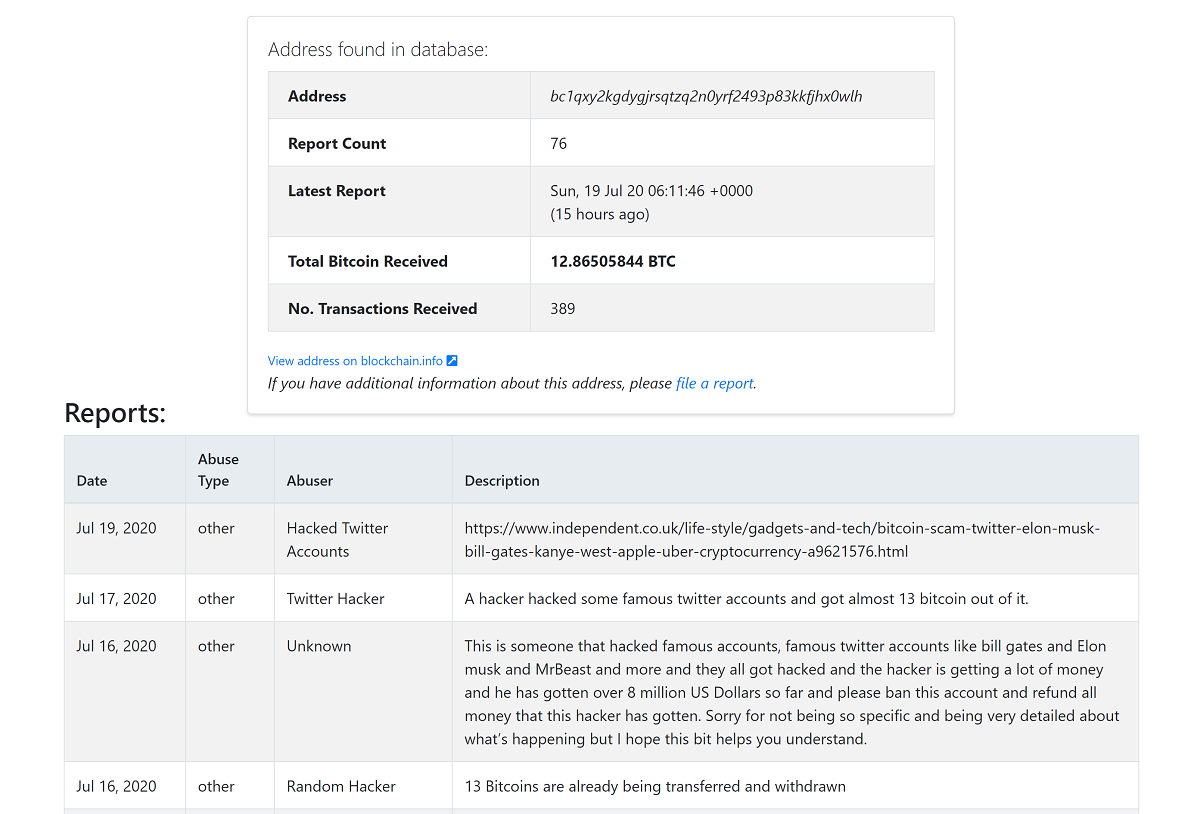 The Bitcoin Abuse website also provides some statistics on the number of bitcoin scams reported. At press time, there have been 156 reports in the last day, 989 in the last week, and 4,112 in the last month.

Check With 'Scam Alert'
Another website where you can easily look up a bitcoin address is Scam Alert, a recently-launched platform created by blockchain tracking and analytics provider Whale Alert. The site explains that its "mission is to make blockchain safer to use for everyone by exposing scammers and other criminals who abuse it." Users are encouraged to "Report scams, thefts and fraudulent websites involving any blockchain or cryptocurrency."
When inputting an address that has been reported as one used by scammers, the site will immediately pop up a message that reads: "Confirmed scam … This address has been confirmed by Scam Alert as a scam. Do not send any payments to this address."
You can also view the scam report on the address that shows information such as a description of the scam, any associated websites, the number of times it has been reported, and the lifetime earnings of the address in U.S. dollars.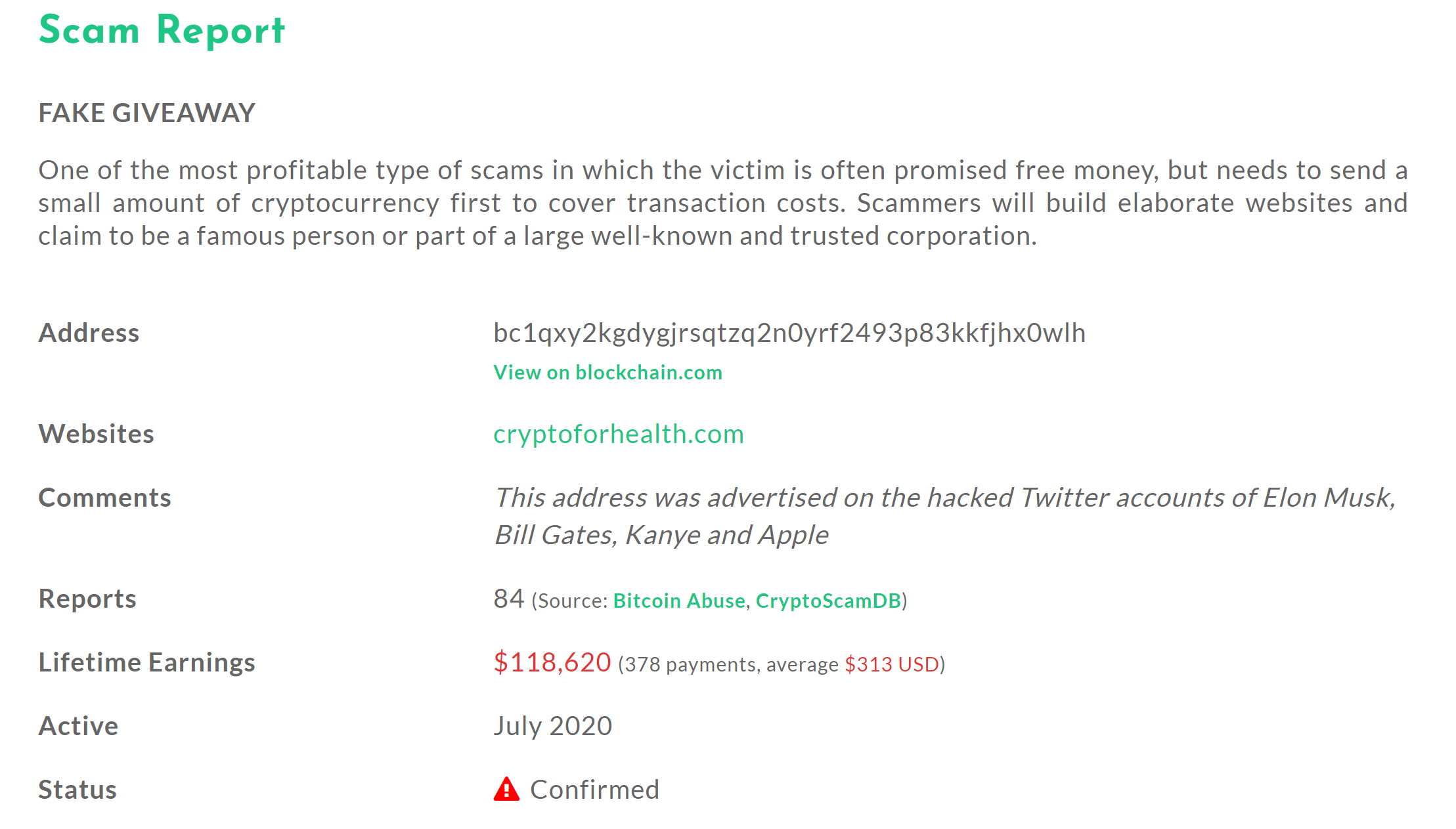 The Scam Alert website also provides some useful information about different types of crypto scams, such as sextortion, ransomware, Ponzi schemes, giveaways, dark web, and theft. It offers some basic scam prevention advice, such as "don't trust anyone" and "verify." The site's list of the top 10 scam addresses shows that the most successful scams based on funds received are Ponzi schemes, fake exchanges, and fake bitcoin giveaways.
Youtube also has plenty of bitcoin scams, particularly fake giveaways, both in videos and ads. Scammers would claim that famous people are giving away bitcoin, such as Spacex and Tesla CEO Elon Musk, Microsoft founder Bill Gates, Virgin Galactic chairman Chamath Palihapitiya, and Amazon CEO Jeff Bezos. The fake Elon Musk BTC giveaway is one of the most successful bitcoin scams, having raked in millions of dollars.
Before last week's Twitter hack, Whale Alert reported on July 10 that is had "been able to confirm 38 million US dollar in bitcoin alone stolen by scammers over the past 4 years (excluding Ponzi schemes, which are a billion-dollar industry on their own), 24 million of which during the first 6 months of 2020."
There are many other schemes aimed at tricking you to send them your bitcoin. As news.Bitcoin.com previously reported, they include Bitcoin Trader, Bitcoin Revolution, Bitcoin Evolution, Moon Bitcoin Live, Bitcoin Loophole, Bitcoin Superstar, and Bitcoin Era. There are also plenty of bitcoin email scams. Many of them may even look legit, well-ranked by Google, with paid reviews on legitimate websites, such as the Associated Press. However, you are not likely to see any bitcoin returned if you send them your coins. One scam even leaked personal data of 250,00 people from 20 countries. Take caution and do your research before sending bitcoin to anyone.
What do you think about all these scams? Let us know in the comments section below.
Image Credits: Shutterstock, Pixabay, Wiki Commons, Bitcoin Abuse, Whale Alert, Scam Alert