We are in the year 2008. On October 31st, the day of Halloween. A pseudonymous author called Satoshi Nakamoto, published "The Bitcoin Whitepaper". While it originally described the elimination of the double spend problem in established currency systems, it has also inspired implementations that go beyond the currency use case.
Since then, the world we know has changed. And for the financial system, Halloween never stopped.
 
The laughters were on our side
This year marks the 10th anniversary of the Bitcoin Whitepaper. Genesis Mining celebrated it the Bitcoin way, e.g., reminding the financial industry of its 10 year old nightmare:
 

 
 
The truck won people's heart: Our Halloween Billboard got more than 900,000 impressions and folks kindly spread the word. E.g. Steve McGary, founder of HackCrypto, was of the opinion, that our truck "is on fire":
 
The @GenesisMining marketing campaign in Vegas today for @WorldCryptoCon is 🔥#halloween #bitcoin pic.twitter.com/nv8xvyObAj

— Steve McGarry (HackCrypto) (@stvmcg) October 31, 2018
 
And that's not all: Even pedestrians commented on our Halloween gag. "A smart billboard. I like it" was one of the statements.
Genesis Mining at the World Crypto Con in Las Vegas
The truck was rented on the occasion of the World Crypto Con in Las Vegas. So whilst our subtle message made its way through the shiny facades of Vegas, we gathered with the Who's Who of the cryptocurrency scene in the exhibition rooms of the city.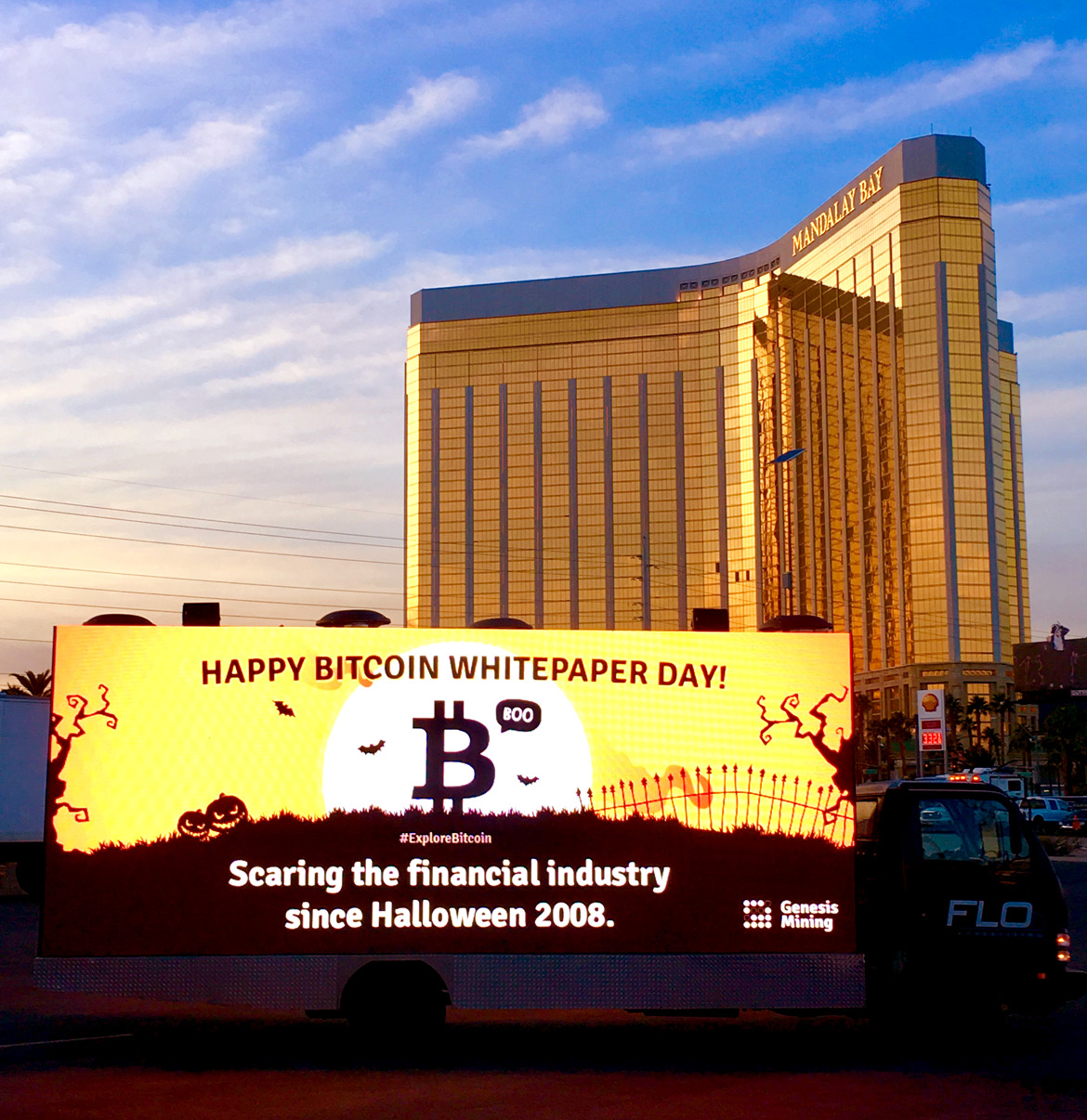 The World Crypto Con took place at the world-famous Aria Resort & Casino in Las Vegas, and spanned 200,000 square feet.
 
Big shots were not only present on the City's famous show stages, but also on the Crypto Con stage: e.g. the Bitcoin Foundation member Charlie Shrem and Litecoin Founder Charlie Lee were on the speaker's list, just to mention some of the highlights.
 
Presentations, panel discussions – Philip Salter, our Head of Mining operations, participated in one of them – educational seminars, networking events, exhibits and more – the event's agenda left nothing to desire. All in all our thanks go to the organizers. We are curious how the World Crypto Con develops and looking forward to next year!
 
Want to read more from Genesis Mining? Click here to subscribe our blog.
 
Did you enjoy reading? Join over 2,000,000 members of the Genesis Mining Family for exclusive discounts and first access to new products and services.