Another week, another round of Crypto Tidbits.
It's been another boring week for Bitcoin. This may sound like a broken record at this point, but it's true. As the chart below shows, the leading cryptocurrency has again been stuck in the low-$9,000s for days on end, failing to react to news events and technicals.
Chart of BTC's price action over the past week from TradingView.com
With Bitcoin failing to break out in any direction, volatility indicators have begun to tighten even further than they were in June.
Brave New Coin analyst Josh Olszewicz shared the chart below showing this. He noted that Bitcoin's one-day Bollinger Bands are at lows not seen since November 2018. This is important as what followed in the consolidation in November 2018 was a 50% drop that took BTC from the $6,000s to $3,200.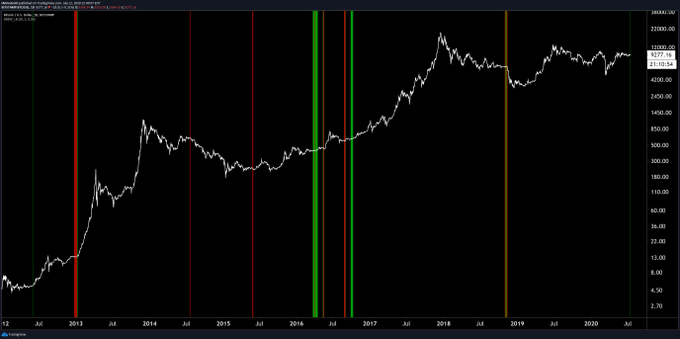 Chart of BTC's macro price action with the width of the Bollinger Bands indicator. Chart shared by Josh Olszewicz (CarpeNoctum on Twitter). Chart from TradingView.com
The presence of an extremely low amount of volatility as been echoed by Josh Rager, a co-founder of Blockroots. He said that the historical volatility index of the leading cryptocurrency has reached a 40 reading. "Every time BTC volatility [was] this low [over recent years], [there was] major price action between 30% to 60% movement in the following weeks," Rager commented.
This, coupled with it soon to be Q2 earnings season for Corporate America, indicates that Bitcoin is likely to see a large move in the near future.
Certain cryptocurrencies are going large moves right now, though. Due to what seems to be a shift from a Bitcoin-centric narrative to one based on DeFi and smart contracts, a swath of cryptocurrencies saw extremely strong performances this week despite BTC's stagnation.
These include Chainlink, Stellar Lumens, Monero, Ampleforth, Kyber Network, and Synthetix Network Token. Many of these cryptocurrencies saw positive fundamental developments this week, and thus have outperformed the rest of the market.
Crypto Tidbits
Twitter Sees "Bitcoin Scam" That Rocks the Online World: It's been quite the past few days for Bitcoin and Twitter. Earlier this week, a famous cryptocurrency trader with the moniker of "Angelo" tweeted out that he would be 'running' a paid group for the first time ever. Many immediately thought that the analyst's account was hacked; Angelo has been on BitMEX's leaderboard, meaning his profits run in the thousands of Bitcoin. Many thought that this was a one-off, unfortunate event that affected one of crypto's top personalities. But in the two hours that followed, it was clear that something else was up. As many readers likely know, the Twitter accounts of Elon Musk, Barrack Obama, Joe Biden, Kanye West, Uber, Apple, and countless other prominent celebrities and companies (in the crypto space as well) tweeted out a Bitcoin scam. Due to the extent of the accounts hack, the news went viral, getting picked up by major news stations and catching the attention of the FBI. As the hack was recent, that has yet to be a breakdown of what exactly took place and what the damage is actually like.
Elon Musk Tweets About Dogecoin… Again: Elon Musk just tweeted about Dogecoin again. When asked about the aforementioned Twitter scam, the prominent Tesla and SpaceX CEO responded by saying: "Excuse me, I only sell Doge." He published the tweet below minutes after the abovementioned comment. The image shows a sandstorm, tagged "dogecoin standard," engulfing a city, which is tagged as the "global financial system."
It's inevitable pic.twitter.com/eBKnQm6QyF

— Elon Musk (@elonmusk) July 18, 2020
Grayscale Is Seeing Massive Institutional Inflows: According to Grayscale Investments' Q2/H1 report, the company's flagship product, the Grayscale Bitcoin Trust, has seen strong inflows over the past few months largely from institutions. The data suggests that investors allocated a total of $1.4 billion into all of the company's products, which averages out to $43.8 million per week. "With so much inflow to Grayscale Bitcoin Trust relative to newly-mined Bitcoin, there is a significant reduction in supply-side pressure, which may be a positive sign for Bitcoin price appreciation," the company noted in their latest report.
Featured Image from DepositPhotos
Price tags:
Charts from TradingView.com
Crypto Tidbits: Twitter's "Bitcoin Scam," Elon Musk & Dogecoin, Institutions Want BTC & ETH