Bitcoin has seen some gains in the past 24 hours as bulls seem to be making a stronger push. However, funding rates across exchange platforms remain negative indicating a high bearish sentiment, at least, in the derivatives sector.
At the time of writing, BTC trades at $32,236 with an 8.4% profit daily and a 2.7% loss in the weekly chart.
QCP Capital has recorded a "roller-coaster" like price action as Bitcoin dropped from its current levels below $30,000 on the weekend only to return to its past weekly open.
This period saw a rise in Bitcoin inflows to exchange platforms. Contrary to popular belief, Senior Commodity Strategist for Bloomberg Intelligence, Mike McGlone, believes that the $30,000 support zone exhibits maturation.
As such, he clarified that Bitcoin continues to be in an uptrend supported by bullish signals. In the short term, the China crackdown on the crypto industry has affecting BTC and could be the main source of selling pressure, but in the long-term McGlone believes that this "confirms Bitcoin's revolutionary value".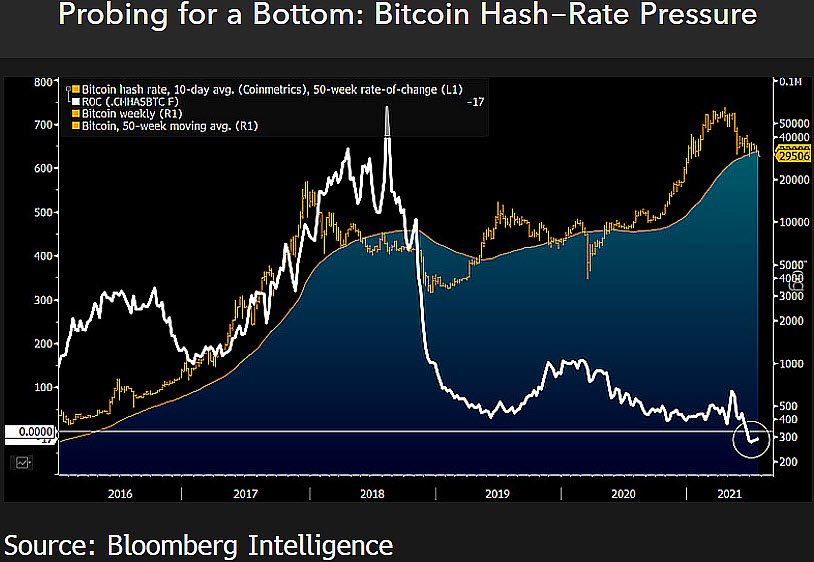 The above was accompanied by what the market perceived as two bearish events, QCP Capital added. First, the Grayscale Bitcoin Trust unlock 16,240 shares and a high amount of put option around the $20,000 levels.
On the negative funding rates, a metric that incentives traders to take long positions, QCP Capital recorded a high degree of selling pressure from the BTC-based futures. The first said:
Consistent selling in both spot and futures persisted into Monday and Tuesday along with several more large prints in BTC and ETH Dec put options, pushing BTC to a low of 29,301 on Tuesday.
Ethereum And Bitcoin Display Strength Amidst High Selling Pressure
A bullish take on the current price action is the resilience shown by Bitcoin and Ethereum's price. QCP Capital claimed that both cryptocurrencies have "tremendous" support at the $29,500 and $1,750 levels. The firm added:
(…) a BTC close around 31,000 today would potentially form a powerful double Demark 9 & 13 buy reversal signal.   Additionally, there is a potentially positive event risk tonight (…)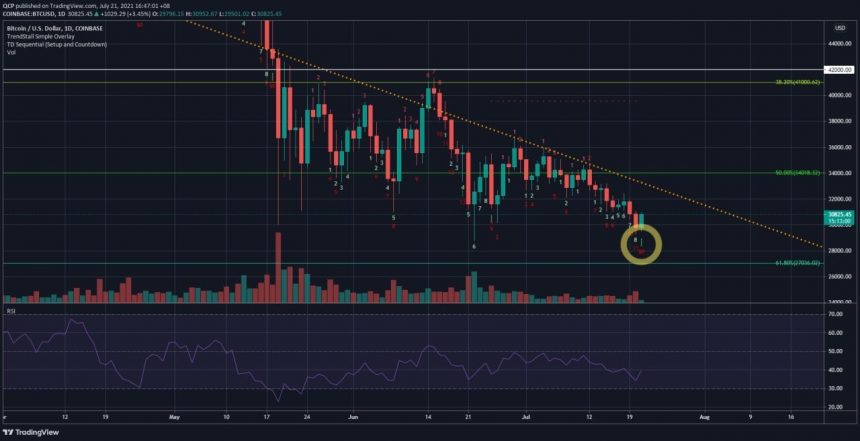 "The B Word" Could become an important bullish catalyzer for the markets. However, one of its main participants, Elon Musk, has a "wild card" reputation. In the short term, QCP Capital leans to the bulls' corner as BTC's price forming a triple-bottom with a strong bullish divergence 2 days chart, as seen below.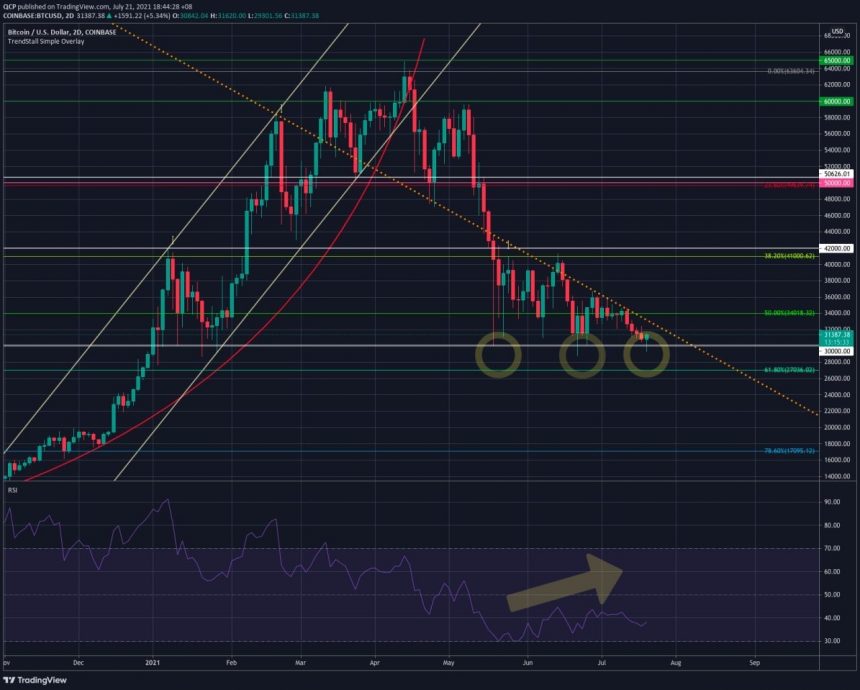 If Bitcoin managed to push even further to the top of its current range and reaches $35,000 and $36,000, the firm expects a short squeeze beyond the $40,000 price point. QCP added the following in their report:
The promising bounce off the lows this morning reaffirms our 30-40k range view in the medium-term. Implied vols should continue to trickle down as a result.