Decentralized Autonomous Organization (DAO) Bee Network recently deployed two features. The first is a decentralized application (dApp) browser, and the second enables users to connect their Bee Wallet with external platforms, such as OpenSea.
Created as a unique blockchain, the Bee Network allows its users to earn rewards with its native token, Bee. Users can leverage the GamiFi experience to receive Bee with their mobile devices and become part of a community that has reached millions of users.
The Bee Network was designed to function like a hive, where each individual has a specific job and is able to operate within a close network without the oversight of a central authority. The project relies on its community members and contributors to advance and thrive.
As mentioned, the Bee Wallet can be connected, using WalletConnect, on marketplaces. In order for users to connect their wallets, they can select WalletConnect as their wallet provided when accessing the platform, as seen below.
Later, users can select the QR scanner function on their Bee Wallet to scan the code provided by WalletConnect. As the image below shows, this will allow the user to connect and then approve the connection to OpenSea or any other marketplace.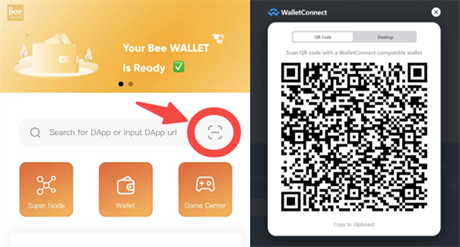 In addition, users will be able to interact with other dApps and Web3 experiences, like NFT games. As part of their dApp browser feature, this will remove friction from the process of finding and connecting to decentralized applications.
As seen below, when the user accesses their Bee Network App they can search and choose the NFT project. At the bottom of the screen, users will find the Square option where they will be able to access their favorite projects.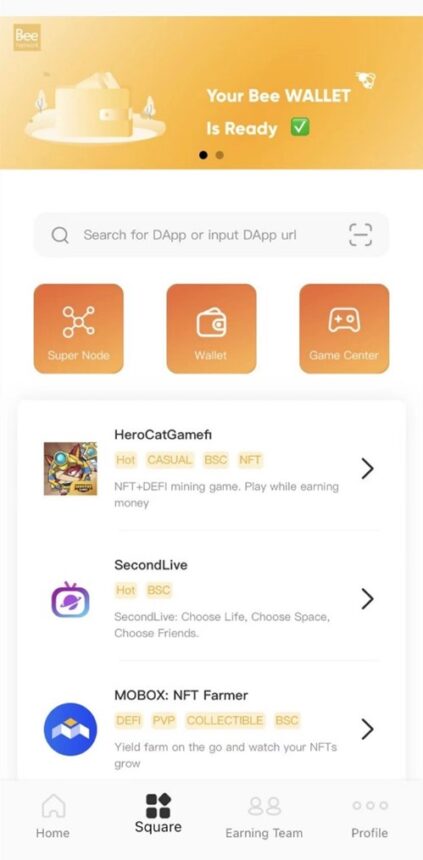 The process was created to be direct and simple, therefore, after selecting an NFT project, users only need to join the project and connect their Bee Network wallet. This feature will also provide additional information on the NFT game, its native blockchain, features, compatible operating systems, languages, and more.
Bee Network, Building An Open Internet With A Community At Its Core
In the future, Bee Network and its hive of contributors will work to make it the hub for the next phase of the internet, often referred to as Web3, and to grow its ecosystem. The project will introduce mobile games supported by the innovative GameFi Model, social media networks, marketplaces, and other services by levering the potential of blockchain technology.
Currently, and according to its Whitepaper, the Bee Network has over 1 million users, and moves at a fast pace surpassing its 10 million user milestone. There are over 18 million bees on the platform.
Unlike alternative blockchains, Bee Network has implemented a Know Your Customer (KYC) program that guarantees the safety of its users and prevents any bad actors from performing illicit activities.
Once the 10 million user milestone is reached, the project is moving to its final stage where it expects to onboard 100 million users with a native exchange marketplace and foster an open internet network on top of its community.