From a technical perspective, Ethereum's price action has been relatively lackluster in recent times, with buyers struggling to garner any sustainable uptrend as the crypto closely tracks Bitcoin's price action.
One data metric does indicate that investors have been heavily accumulating throughout the course of the cryptocurrency's recent downturn.
This accumulation has led investor's profitability to reach a historical region of resistance, as 80% of ETH's supply is now in a state of profitability.
In the past, this has only lasted for short periods of time, as typically this percentage sees swift declines when it reaches this percentage.
This could be coming about as the cryptocurrency flashes technical signs of forming a mid-term peak.
Ethereum Shows Signs of Forming a Topping Out as Its Momentum Falters
Ethereum has been caught within a tight bout of sideways trading throughout the past several days, struggling to garner any decisive momentum in either direction.
This consolidation has largely come about as a result of ETH's close correlation to Bitcoin – which has been trading around $9,700 for the past week.
At the time of writing, Ethereum is trading up marginally at its current price of $243, marking a slight decline from recent highs of $255 that were set at the peak of the uptrend seen last week.
Yesterday, sellers attempted to spark a shar downturn that ultimately led the crypto down to lows of $237. The support at this level was quite significant, as it was followed by a sharp upswing that led it to highs of $247.
These two levels appear to mark the upper and lower boundaries of a trading range that it is currently caught within.
Per a NewsBTC report from yesterday, analysts do believe that Ethereum's strength is showing some signs of faltering. One trader in particular noted that it is imperative for the crypto to hold above $217 in order for its uptrend to remain intact.
"ETH beginning to confirm [a trend reversal]. Likely will lead to acceleration in the near term. Would really like to see the last HL hold though in order to stay bullish on alts. No closes below $217 please," he said.
Profitable ETH Supply Hits Historical Resistance
The percentage of Ethereum that is profitable has also reached a significant level.
According to analytics platform Glassnode, 80% of the total ETH supply is currently profitable.
This marks the third attempt to break above 80% seen in over a year, and previous attempts have closely preceded sharp price declines.
"The percent of ETH supply in profit is hovering at 80%. It is the third attempt within a year to break this level. Last time the Ethereum's supply in profit was significantly above 80%, ETH was priced at around $700."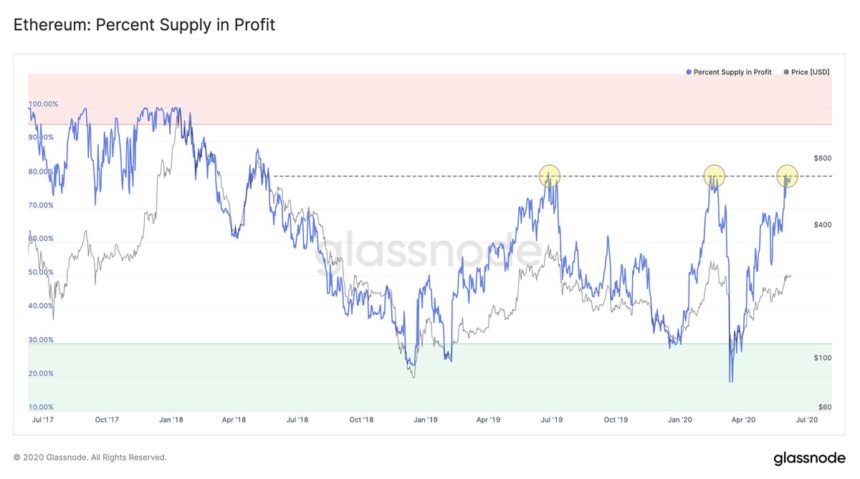 The coming few days should be quite illuminating as to whether or not Ethereum is on the cusp of seeing a major decline.
Featured image from Shutterstock.