XTZ rose to its highest point in nearly three weeks on Tuesday, as the token climbed for a second straight session. The move came as FLOW was also trading higher, as prices of the coin moved closer to $2. Overall, crypto markets were 0.90% lower as of writing.
Tezos (XTZ)
XTZ rose to a multi-week high on Tuesday, leading prices to a collision with a long-term resistance level in the process.
Tuesday saw tezos climb to an intraday peak of $1.68, which is nearly 9% higher than yesterday's low at $1.49.
As a result of this rally, XTZ/USD collided with its long-term resistance level at $1.65 for the first time since June 12.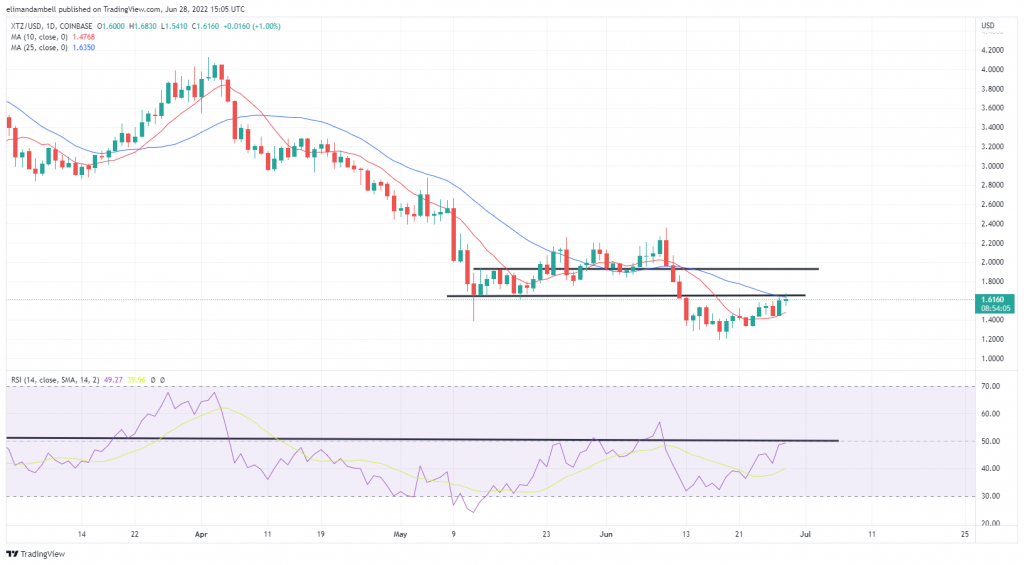 Following recent lows, prices of the token have steadily increased, and as of writing are 11.48% higher than at the same point last week.
In addition to prices, another resistance has been hit, as the 14-day RSI hit a ceiling of its own at the 50.20 point.
Tezos bulls appear to be attempting to enter the $2 region, however this will likely not occur until we see a breakout of the RSI resistance.
FLOW
FLOW was also trading near a multi-week high on Tuesday, as prices rose by as much as 8% during today's session.
Whilst XTZ bulls may need to wait a while longer before re-entering the $2 region, FLOW was close to this point following today's gains.
Following Monday's low of $1.65, FLOW/USD surged to an intraday peak of $1.81 earlier in the day.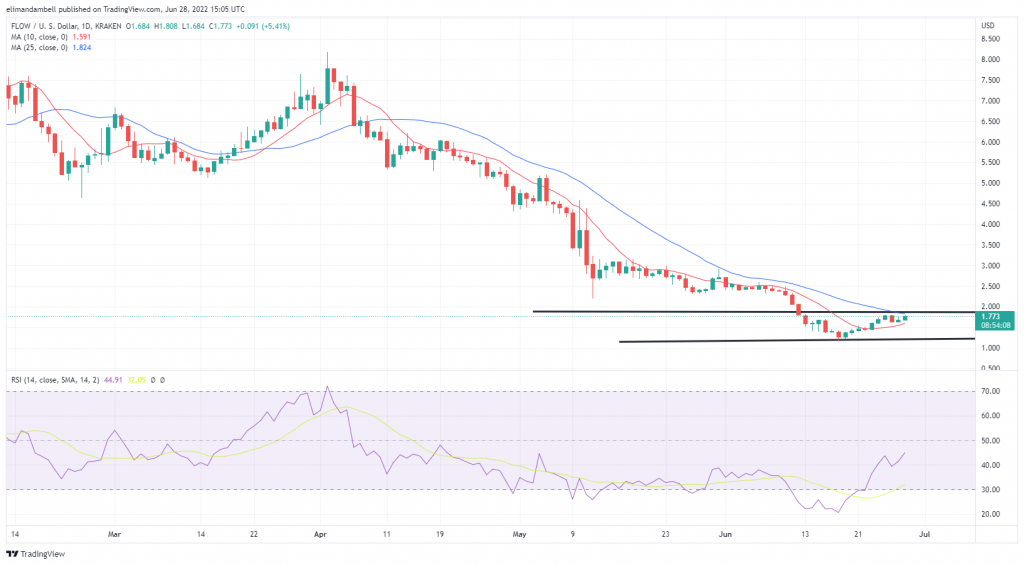 This is the highest point the token has traded since June 13, and comes as prices also hit a resistance point of $1.80.
Bulls opted to secure profits rather than hold onto their positions, which resulted in prices falling lower as the session progressed.
As of writing, FLOW is currently trading at $1.77, which is marginally below earlier highs.
Do you expect FLOW to reach $2 as early as tomorrow? Let us know your thoughts in the comments.
Image Credits: Shutterstock, Pixabay, Wiki Commons