Monero moved to its highest level in five weeks on Thursday, despite crypto markets mainly trading in red. The token rose to its highest level since June 13 after extending recent gains. On the other hand, dogecoin dropped lower today, despite Elon Musk announcing that Tesla hasn't sold any of the meme coin.
Monero (XMR)
Monero (XMR) was a notable mover in today's session, as the token rose for a fourth consecutive day.
Today's surge saw the token climb to an intraday high of $153.09, which is its highest point since June 13.
As a result of the move, XMR/USD is now closing in on a key resistance level at $155, which will likely be a point of uncertainty for traders.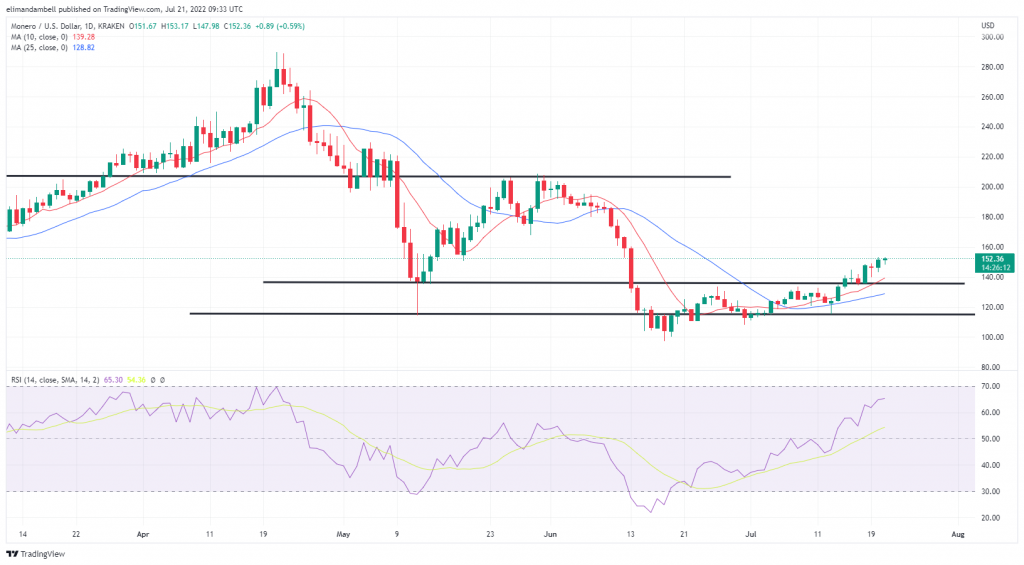 This price ceiling will coincide with another resistance level, that being of the 14-day RSI, which is currently tracking at a three-month peak.
Bears who view current prices as overbought may use this as an opportunity to reenter, with some earlier bulls being pushed to abandon their positions.
However, should a breakout of this point occur, then XMR will likely make a run towards its higher ceiling of $175.
Dogecoin (DOGE)
Following a move to a three-week high on Wednesday, dogecoin (DOGE) was in the red in today's session.
Prices of the meme coin fell by nearly 10% earlier today, despite comments from Elon Musk, confirming that Tesla had not sold any DOGE in Q2.
As previously written, Tesla had sold 75% of its bitcoin holdings in the quarter, however, Musk commented that "We have not sold any of our dogecoin".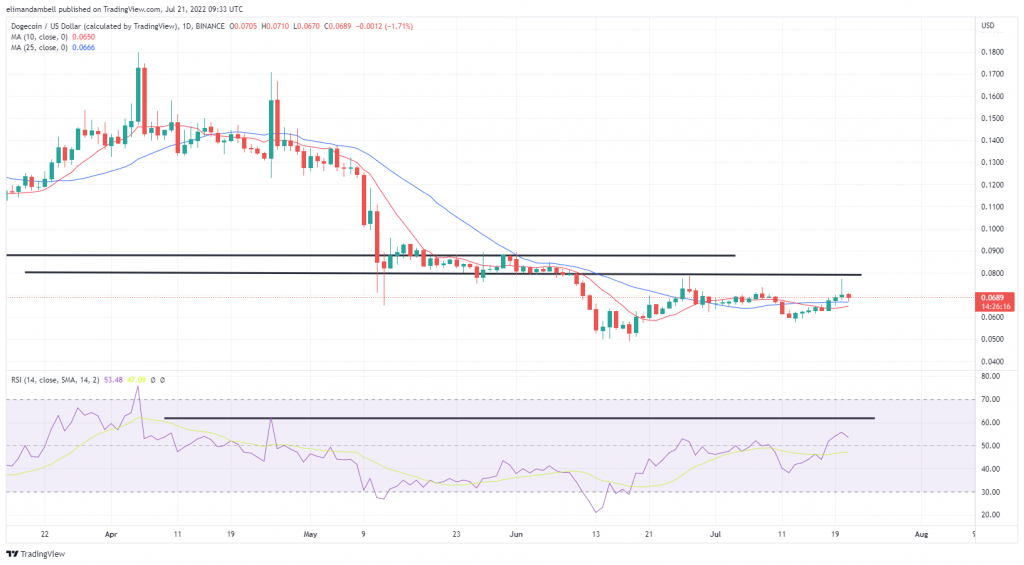 Despite this, DOGE/USD fell to an intraday low of $0.06724 less than 24 hours after trading at a peak of $0.0751.
Although there are some fundamentals behind the move, today's drop comes as several tokens, including DOGE, hit resistance in price strength.
As of writing, the meme coin failed to break out of its ceiling at 55.8, and is now tracking at 53.6.
Register your email here to get weekly price analysis updates sent to your inbox:
Do traders still value Elon Musk's public support of dogecoin? Let us know your thoughts in the comments.
Image Credits: Shutterstock, Pixabay, Wiki Commons