On Monday, June 15, 2022, the price of bitcoin tapped a low not seen since mid-December 2020 as the price hit $20,080 per unit. A large number of crypto supporters are debating whether or not the drop is the market's bottom or if the fall could lead to deeper losses. At the time of writing, bitcoin is 70% down from the $69K all-time high (ATH) but traditionally, bitcoin is known to drop around 80% or more from ATHs recorded in the past.
Will Bitcoin Slide More Than 80% Down This Time Around?
The crypto economy has had a rough couple of weeks as the leading crypto asset bitcoin (BTC) shed 35% over the last 14 days. Speculators have gone from guessing whether or not it might be a bear market to saying it definitely is a bear market.
During the past few days, there's been a lot of capitulation and on Monday, hundreds of thousands of crypto traders were liquidated for close to $1.30 billion. Two days later, bitcoin dropped to a low of $20,080 per BTC and the last time BTC traded at this price was 17 months ago in mid-December 2020.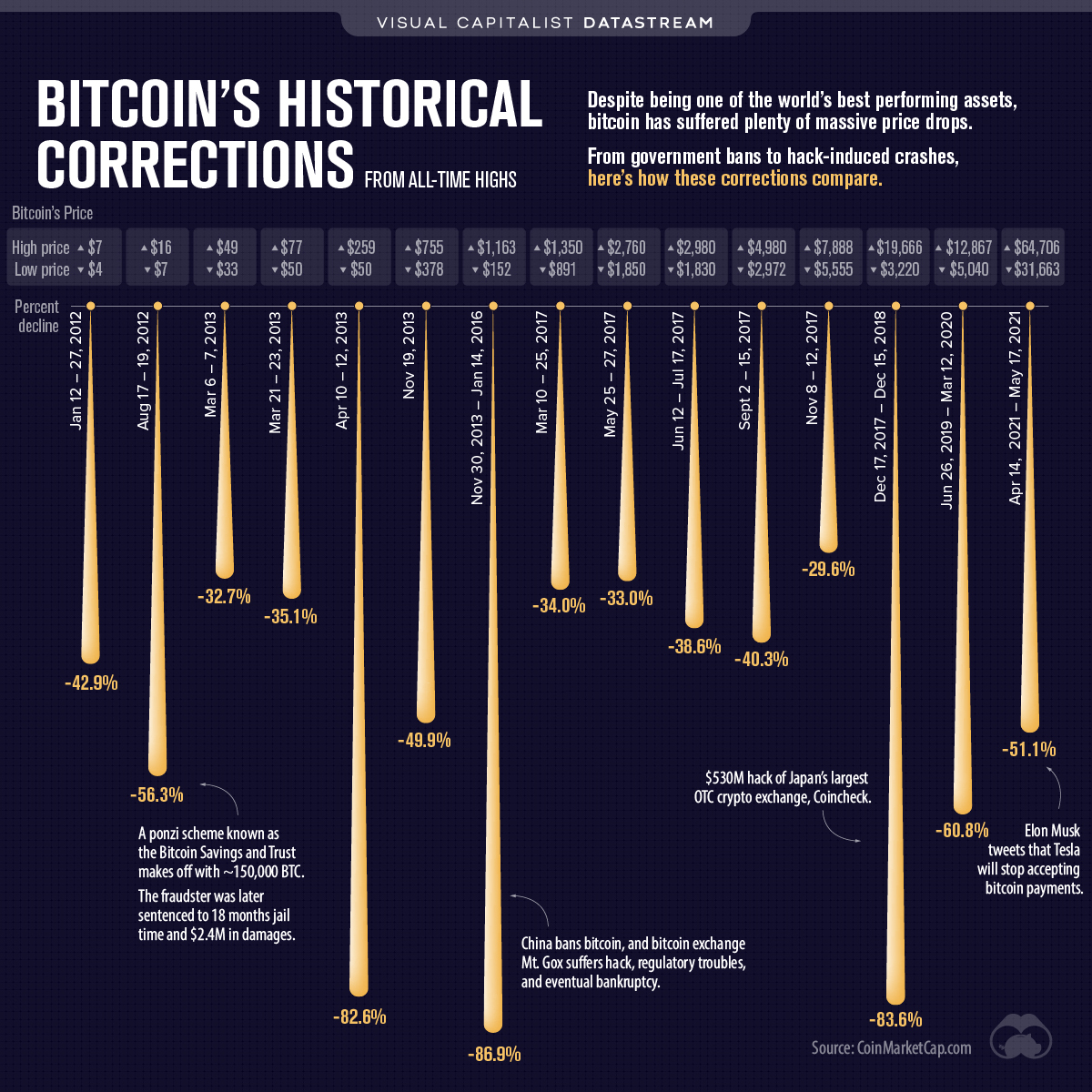 At current USD values, bitcoin is down 70% from the $69K ATH it hit on November 10, 2021. During the bull runs in 2013 and 2017, bitcoin (BTC) dropped more than 80% lower than its previous price peaks. Coingecko.com's founder, Bobby Ong, tweeted about bitcoin's falls from the past bull runs and he included ethereum (ETH) in the 2017 runup.
For instance, after BTC's price high in 2013 of around $1,127 per unit, by 2015 BTC was down 82% at $200 per coin. Ong's tweet shows that In 2017, BTC jumped to $19,423 per unit but by 2018, the price dropped to a low of $3,217, which was 83% lower than the price high.
The Coingecko co-founder explained that ethereum dropped 94% during the 2017-2018 price cycle. Ong's tweet was published on June 11, 2022, and at that time, BTC's USD value was 59% lower than the ATH, and ETH's value was 69% lower. At the time of writing, ETH's dollar value is 75.4% lower than the crypto asset's all-time price high ($4,815) reached on November 10, 2021.
Let's do some math.

With a potential bottom for $BTC at $12,000 and a potential bottom for the ETH/BTC pair at 0.03, this would mean ETH would eventually reach $360.#Bitcoin #Ethereum #bearmarket $ETHBTC

— Colin Talks Crypto – CBBI.info (@ColinTCrypto) June 15, 2022
Of course, there's a lot of speculation and theories about whether or not BTC's price will go lower from here. An 80% drawdown from BTC's ATH in 2021, would be roughly $13,800 per unit. If ethereum saw a 90% fall from the ATH last year, then the USD value would be around $488 per ether. Some speculators predict BTC could hit $12K per unit and ETH could tap $360 per unit.
A Drop Beneath $19K Wipes Out Pre-Halving Price Highs, Bitcoin Miners Struggle, Macroeconomic Disasters Continue to Shake Global Markets
So far, since the crypto economy's ATH last year, more than $2 trillion in value has left the crypto ecosystem. Traders are also concerned about the next halving, as prices will need to be much higher when miners only get 3.125 BTC per block found. A fall below $19K per BTC will erase the previous pre-halving price highs. Furthermore, using current BTC exchange rates and $0.12 per kilowatt-hour (kWh), only seven ASIC mining rigs are seeing steady profits.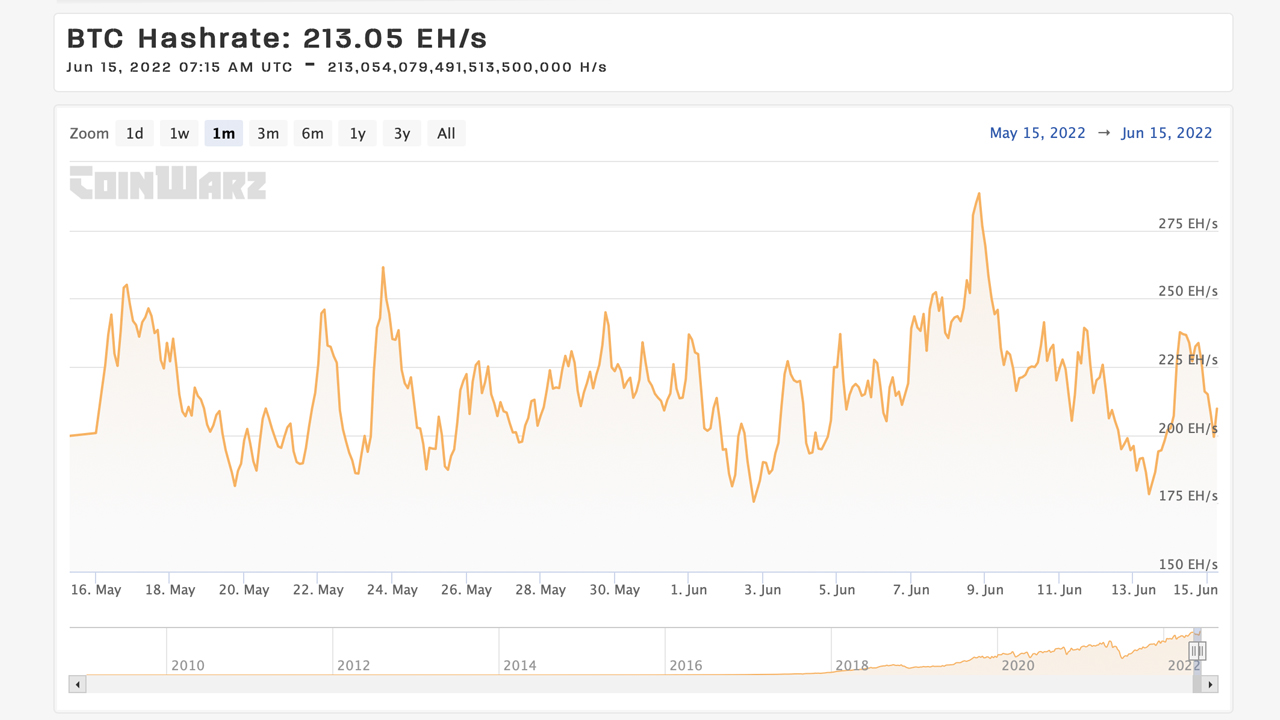 Bitmain's Antminer S19 XP with 140 terahash per second (TH/s), using the same electricity cost of $0.12 per kWh, gets an estimated $3.49 per day in profit. The Microbt Whatsminer M50S with 126 TH/s gets an estimated $1.51 per day in BTC profits using the same electrical costs. At $0.12 per kWh, machines producing 84 TH/s are not profitable, unless they get cheaper electrical resources.
All of these signs and the thousands of crypto employees laid off during the last few weeks arguably show this is definitely a bear market. The question remains on whether or not the 80%+ drawdown will take place this cycle and how long the bear run will last.
There's also the macroeconomic disasters and concerns over rising inflation, central banks' hiking rates, and the ongoing war between Ukraine and Russia. Bitcoin steadily rose to its ATH while Americans and citizens from other countries received stimulus payments. While bitcoin and the crypto markets never experienced a Covid-19 lockdown economy before, the crypto economy has never been tested under current circumstances, either.
What do you think about bitcoin's current price cycle? Do you expect an 80% drawdown from the ATH last year? Let us know what you think about this subject in the comments section below.
Image Credits: Shutterstock, Pixabay, Wiki Commons, Feature Illustration Contributor Vlastas, Chart by Venture Capitalist Datastream,