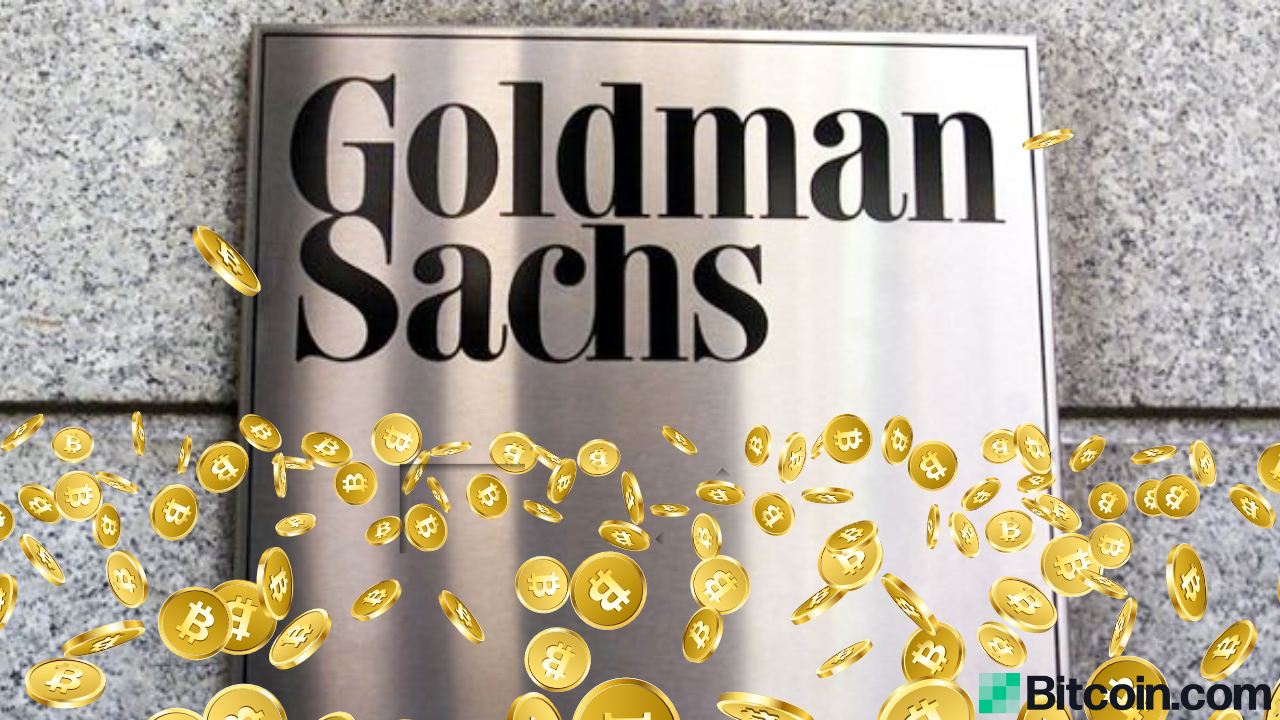 As interest in cryptocurrency grows among institutional investors, global investment banks, like Goldman Sachs and JPMorgan Chase, are reexamining their views about bitcoin. Goldman Sachs is hosting a call for its clients to learn about the implications of current policies for bitcoin, gold, and inflation.
Goldman Sachs' Bitcoin Call for Clients
New York City-headquartered investment bank Goldman Sachs is hosting a call for clients on May 27 entitled "US Economic Outlook & Implications of Current Policies for Inflation, Gold and Bitcoin." Goldman Sachs' Investment Strategy Group, part of the firm's Consumer and Investment Management Division, has issued a notice inviting clients to the call where they can learn about bitcoin.
Sharmin Mossavar-Rahmani, Goldman Sachs' head of Investment Strategy Group and chief investment officer for Wealth Management, will host the event. She is responsible for the firm's overall strategic asset allocation and tactical investment strategy.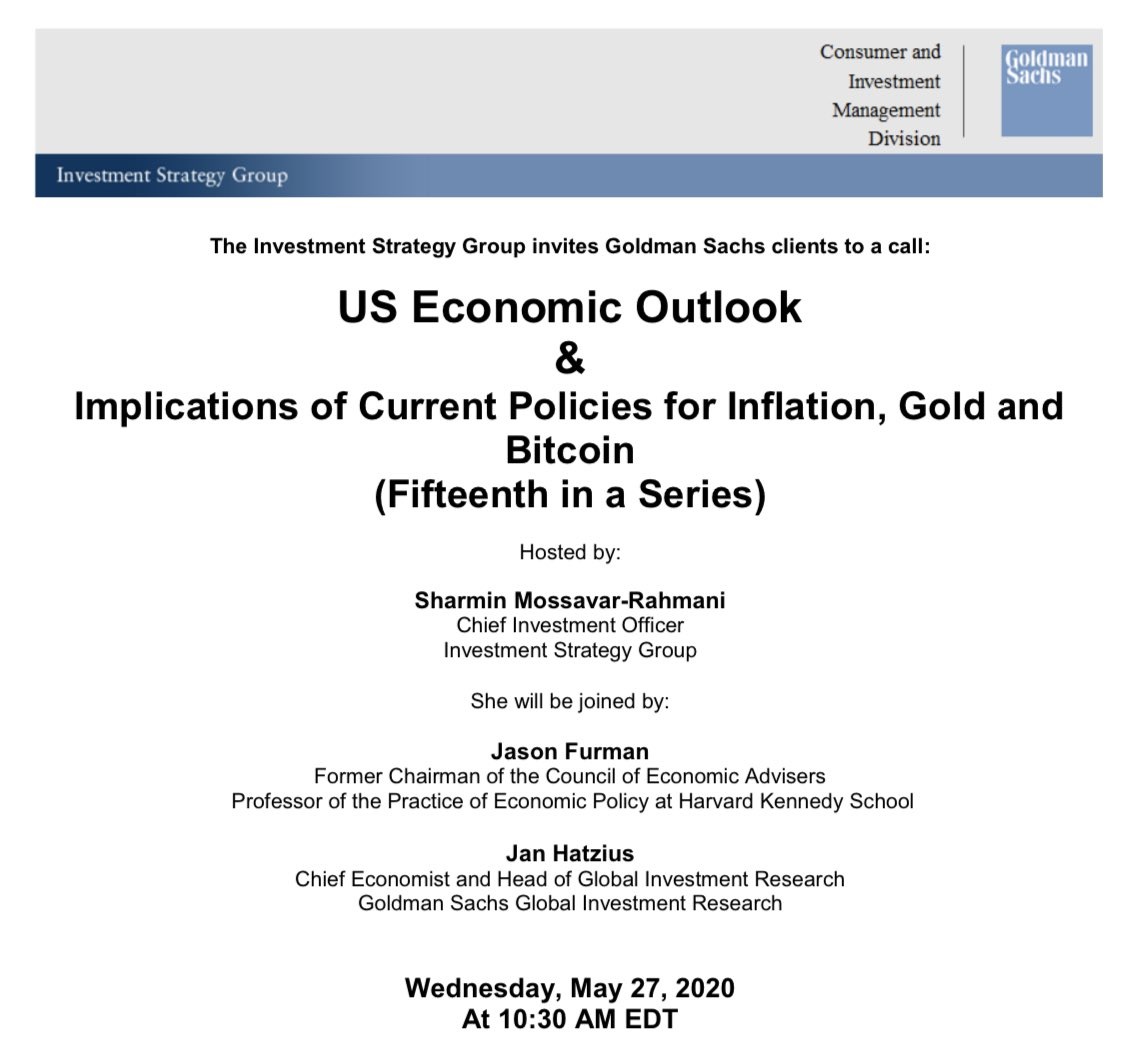 Two other economists will join her for the call. One is Jason Furman, former chairman of the Council of Economic Advisers and professor at Harvard Kennedy School (HKS). The other is Jan Hatzius, Goldman Sachs' chief economist and head of Global Economics and Markets Research. According to the firm, Hatzius is also a two-time winner of the Lawrence R. Klein Award for the most accurate U.S. economic forecast, including during the global financial crisis.
Goldman Sachs Schedules Bitcoin Call Amid Rising Institutional Demand for Cryptocurrency
Cryptocurrencies, particularly bitcoin, have been gaining interest among institutional investors. A recent report by PWC and Elwood Asset Management shows that cryptocurrency hedge funds' assets under management have been growing steadily, rising more than $2 billion at the end of last year. "I expect the crypto hedge fund industry to grow significantly over the coming years," PWC partner and global crypto leader Henri Arslanian said.
Institutional investors have been gaining exposure to bitcoin and several other cryptocurrencies via Grayscale Investments' products. The company revealed that the majority of its record-high investment in the first quarter (88%) came from institutional investors, dominated by hedge funds. Most went into Grayscale Bitcoin Trust (GBTC). It was further revealed that the company bought a third of all bitcoin mined in three months. The average weekly investment in the first quarter was $29.9 million in Q1 2020, a substantial increase from $3.2 million in the same time period last year. Grayscale CEO Barry Silbert hinted that the purchase in the second quarter will be even higher. "Just wait until you see Q2," he tweeted.
An increasing number of billionaire investors are also increasing their investment portfolios' exposure to bitcoin or recommending bitcoin as a hedging strategy. Among them are Virgin Galactic chairman Chamath Palihapitiya, Galaxy Digital CEO Michael Novogratz, and famous hedge fund manager Paul Tudor Jones. Several economists and analysts have predicted that more institutional investors will be investing in cryptocurrency post the covid-19 crisis, such as this Japanese analyst and SEC Commissioner Hester Peirce.
Investment firms, like JPMorgan Chase, that were previously skeptical about bitcoin and other cryptocurrencies are coming around and beginning to embrace them. JPMorgan CEO Jamie Dimon used to call bitcoin a fraud but later regretted making the statement about the cryptocurrency. In addition, JPMorgan Chase is recently said to have accepted two bitcoin exchanges, Coinbase and Gemini, as banking clients.
Many people in the cryptocurrency community view Goldman Sachs' bitcoin call as a bullish move for the industry. "Bitcoin is inevitable, all who have gone against it are now being forced to kneel, first JPMorgan, now Goldman Sachs," one Twitter user wrote. "Even banks realize fiat money is losing value … The race is on," another tweeted. A different Twitter user chimed in: "After having criticized bitcoin so much, calling it a scam, Goldman Sachs is now feeling the wind shift. Many opponents will do the same by changing their opinions in the months and years to come. The bitcoin revolution will take place with or without their support."
Goldman Sachs has not released the details of what aspect of bitcoin it will discuss during the call, drawing an array of speculation on social media. While some are optimistic, others believe the hype may be premature. Goldman Sachs recently predicted the worst recession for India and believes that a deep and prolonged recession would warrant negative interest rates in the U.S. despite Fed Chairman Jerome Powell dismissing the strategy.
What do you think about Goldman Sachs discussing bitcoin? Let us know in the comments section below.
Image Credits: Shutterstock, Pixabay, Wiki Commons, Goldman Sachs, New York Post, Reddit
Read disclaimer