According to a new report, the depreciation of some currencies against the U.S. dollar is contributing to the declining international remittances. After touching an all-time high of $548 billion in 2019, the World Bank report now projects remittances to drop 7.2% in 2020 to $508 billion and a further decline of 7.5% to $470 billion in 2021.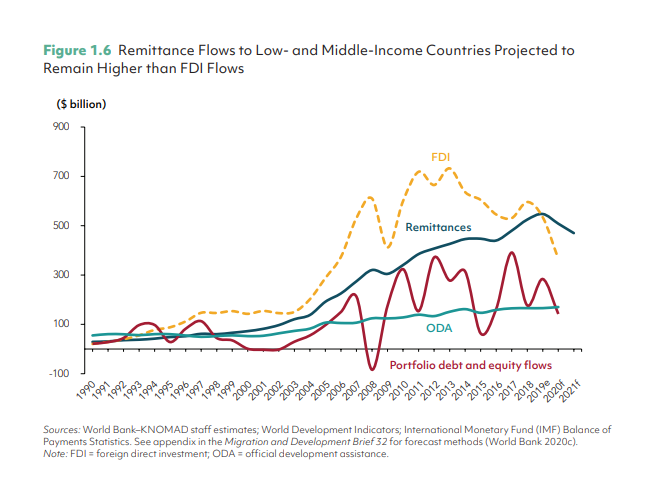 Volatile Currencies
In its Migration and Development Brief 33, the World Bank details how the Covid-19 induced currency depreciation has affected the flow of global remittances. In the brief, the authors point to the exchange rate between the U.S. dollar and the source currencies for remittances. Detailing how this has affected the flow of remittances from Russia, the report says:
The weakening of the ruble against the U.S. dollar, by over 26% since the beginning of 2020, has reduced remittances from Russia in U.S. dollar terms. Remittances to Central Asia have therefore declined significantly.
The World Bank data indeed projects that remittances sent from Europe and Central Asia will register the sharpest decline (globally) of 16% in 2020. On the other hand, remittance flows to Latin America, and the Caribbean are expected to decline by just 0.2% in 2020.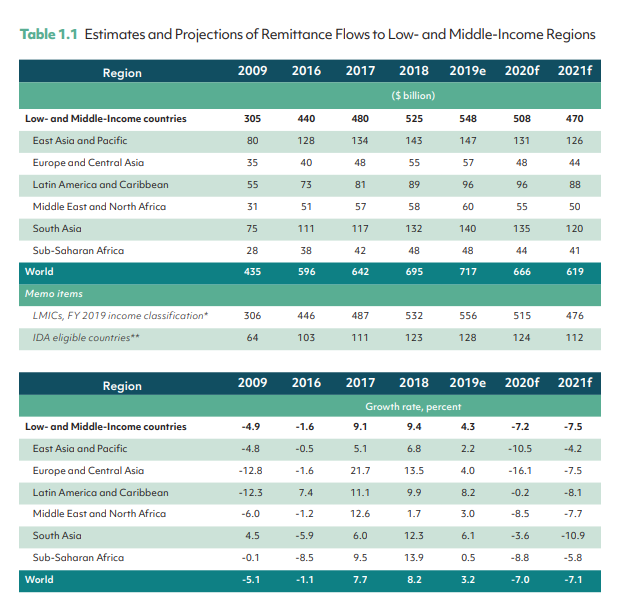 Still, the report identifies the other "foremost factors" driving this decline as the "weak economic growth and uncertainties around jobs" particularly in the case of the United States and European countries. For oil-rich countries like Saudi Arabia and Russia however, it is the weak prices for the commodity that are driving down the flow of remittances.
Impact of Digital Remittances
Meanwhile, after detailing the impact of Covid-19 and the associated mobility restrictions, the World Bank report goes on to assert that formal recognition of "digital remittances" will help to keep funds flowing even in tough times. The report continues:
"Governments must support remittance infrastructure, including by recognizing remittance services as essential, reducing the burden of remittance fees on migrants, incentivizing digital money transfers, and mitigating factors that prevent customers or service providers of digital remittances from accessing banking services."
Although the World Bank report fails to specifically identify cryptocurrencies as one of the digital remittances it is touting, studies and reports already show the increasing use of crypto assets when remitting by some migrant groups.
For instance, a news.Bitcoin.com report suggests that there is a growing use of cryptocurrencies as rails for remitting funds across borders. A different report also shows a marked growth in peer-to-peer trade volumes after countries imposed lockdown restrictions.
Covid-19 restrictions may have inadvertently increased the appeal of cryptocurrencies. The second wave of growing infections and the resultant restrictions will only reinforce their place in this new normal. As the World Bank has advised, countries can reduce the impact of such restrictions by embracing digital remittances.
Do you agree that digital remittances can halt the declining flow of funds? Tell us what you think in the comments section below.
Image Credits: Shutterstock, Pixabay, Wiki Commons