BAND, the native token of the Band Protocol, has grown by more 300% in just seven days. At the at time of writing, the token traded at $14.50 against the August 3 trading price of $3.86.
On August 10, the token also touched a new high of $17.78 while the 24 hours traded volumes were $167.4 million.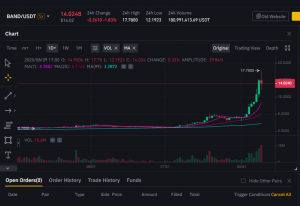 BAND's surging price follows a flurry of new partnerships or integration announcements. The flow of positive news about the protocol climaxed with the listing of the token on Houbi August 9, a few days after another listing on Coinbase.
Before the Huobi listing, the Band Protocol team had announced another partnership with Ubik Capital, the ICON network's "fourth-largest public representative."
At the time of the announcement, the Band team suggested that Ubik Capital was chosen because it has among other things "over 14.5+ million ICX staked to them and 3800 unique delegators."
The decentralised finance (defi) boom also appears to be another catalyst for the increased interest in the token.
Meanwhile, the BAND token price surge appears to be faster than that of LINK, the native token of Chainlink. Both Band and Chainlink are building infrastructure that enables interoperability of smart contracts.
When LINK was trading at $8.35 the BAND token traded at $3.86. However, after seven days, the former now trades at 13.20. LINK's all-time high (ATH) of $14.45 is just over three dollars less than BAND's ATH.
It is not clear why BAND's growth is outpacing that of LINK although a top ten list of July's busiest ERC-20 Dapps produced by Santiment might provide some clues. According to Santiment, Band protocol is ranked sixth on the list.
According to Santiment, the rankings are based on "development activity, the often-underrated indicator of project success."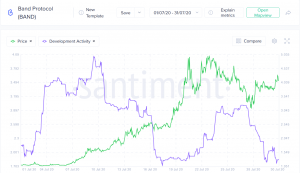 Some of the activities that earned Band sixth place include the release of "a mobile version of Cosmoscan, improved incentive systems in Bandchain, upgraded oracle scripts to support a wider range of utility libraries and also release the Guanyu Testnet #1 which had 50+ participating validators."
As the cryptocurrency market outlook remains bullish, it remains to be seen if this token can continue to outperform LINK and other similar tokens.
What do you think of BAND's surge? Tell us your thoughts in the comments section below.
Image Credits: Shutterstock, Pixabay, Wiki Commons