Following strong gains during Wednesday's session, bitcoin and ethereum both saw prices consolidate below key resistance levels. BTC remained marginally above $47,300, with ETH trading close to $3,400. The global crypto market cap was 0.48% lower as of writing.
Bitcoin
Bitcoin saw its price consolidate during Wednesday's session, following strong gains on Tuesday, which saw BTC rise to multi-month highs.
However on Wednesday, BTC/USD fell to an intraday low of $46,746.21, as prices failed to sustain a breakout of the $48,080 ceiling.
Today's drop came as prices rose to a peak of $47,938.21. However, bullish momentum somewhat eased as bulls likely secured some earlier gains.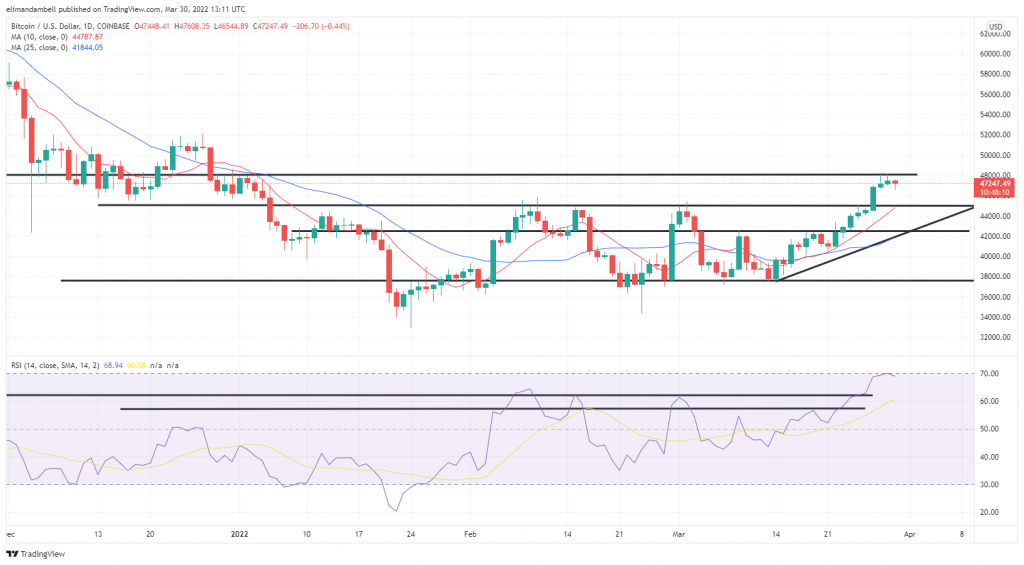 Now the question will be whether or not these drops in price will persist, with bears looking to enter the market in order to lead a reversal in price strength.
Looking at the chart, the 14-day RSI has also begun to tail off, and now tracks at 69, which is still overbought.
Should bears look to move prices lower, this could be a factor, with the 61 RSI floor being a point they could be targeting, thus pushing BTC towards $44,000.
.
Ethereum
Despite also falling in today's session, ethereum continued to hover marginally above the $3,400 level.
As of writing, ETH/USD was trading 1.70% lower, as prices hit an intraday low of $3,349.24, following on from an earlier high of $3,466.67.
Wednesday's decline in price comes less than 24 hours after the world's second largest cryptocurrency rose to a nearly four-month peak of $3,483.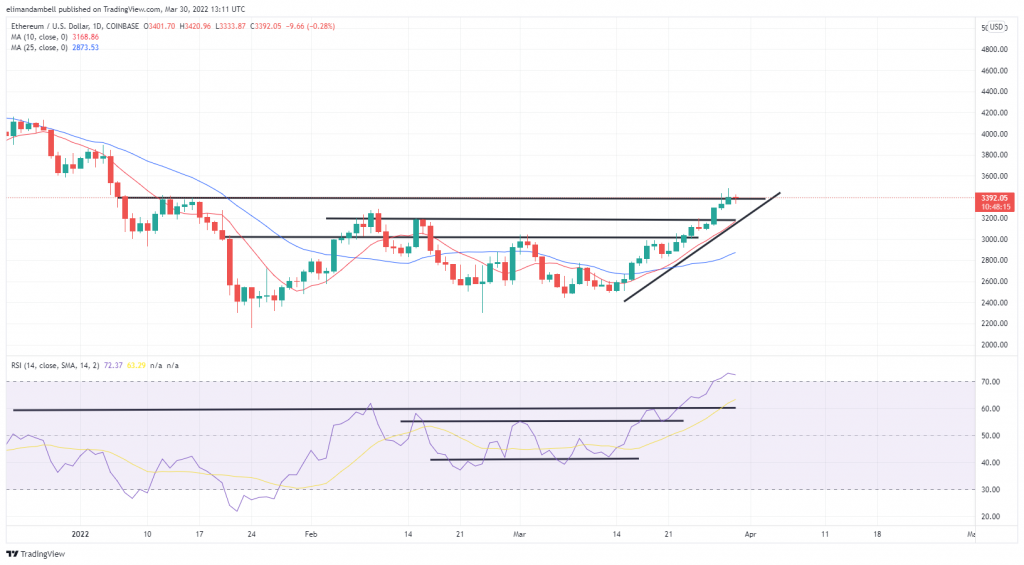 Looking at the chart, one of the reasons for the decline is the fact that price strength is deeply overbought.
This comes as the 14-day RSI is still tracking above 70, which is close to its highest point since September last year.
Bulls likely saw this as an opportune time to liquidate their positions, while bears viewed it as an ideal point to push prices lower.
Can ETH bears continue to push prices lower, despite the current momentum being bullish? Leave your thoughts in the comments below.
Image Credits: Shutterstock, Pixabay, Wiki Commons