Bitcoin and ETH both fell below key price levels on Tuesday, as crypto bears continued to push prices lower. Despite this, both have now regained these levels following news that U.S. inflation rose to a record 8.5% year-over-year. Overall, cryptocurrency markets were down 1% as of writing.
Bitcoin
BTC dropped below its key level of $40,000 earlier in today's session, as recent losses in value continued to mount.
Following a high above $42,000 to start the week, BTC/USD fell to an intraday low of $39,373.06 on Tuesday.
This is the lowest level BTC has traded since March 16, however declines have somewhat eased as the floor was hit.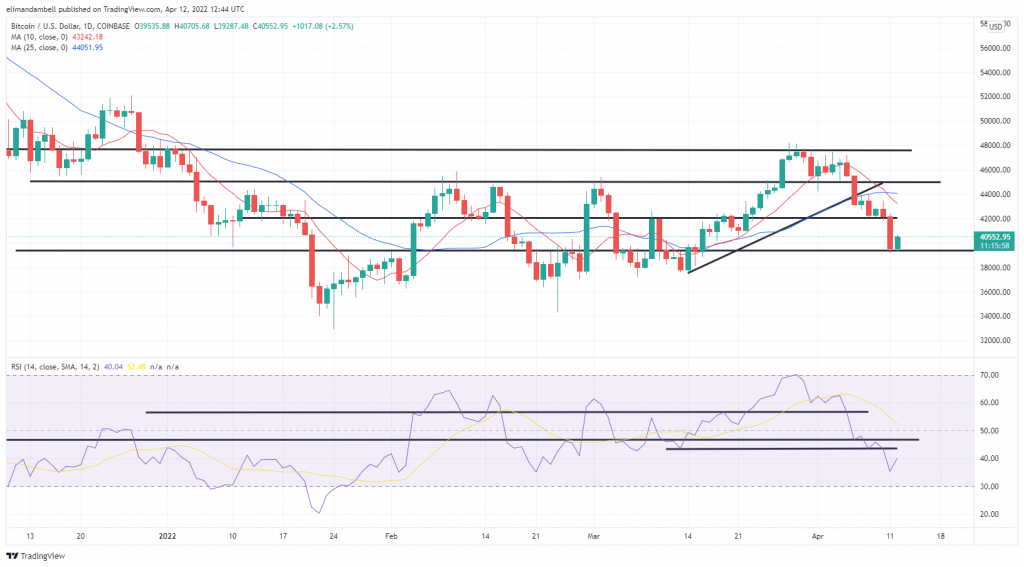 As seen on the chart, this floor was at the $39,450 level, which then gave bulls the courage to re-enter the market due to previous rebounds which occurred at this price.
Since today's low, BTC is now trading at $40,270, meaning that losses have eased, and now sit at negative 1.82% for the day.
Price strength continues to be oversold, which could be yet another positive for bulls looking to buy recent dips in value.
Ethereum
In addition to BTC, ethereum also fell below a key support point earlier in today's session, before regaining its footing.
ETH/USD dropped below $3,000 for the first time since March 23, as it went on to hit an intraday low of $2,957.87 in the process.
However, following the release of U.S. inflation data, which showed that consumer prices rose to a record 8.5% annualized rate, ETH has somewhat rebounded.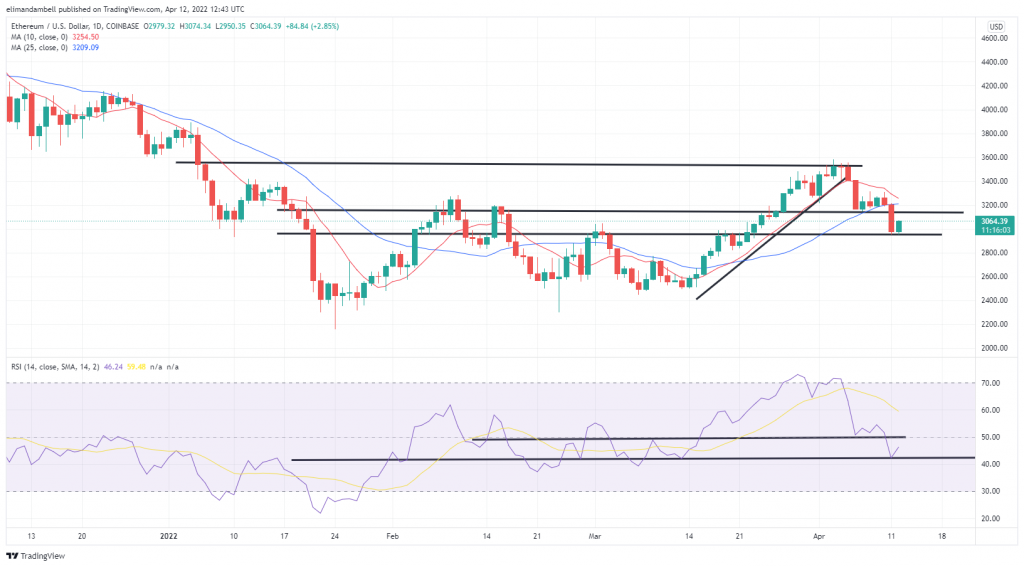 As of writing, ETH is now trading above its floor of $2,950, as it currently sits at $3,050, which is roughly 0.9% lower than yesterday's high.
Looking at the chart, the RSI is currently hovering below its resistance of 50, and now sits at 45, so if price strength continues to increase, this could be the target point.
Despite this, recent momentum has now brought moving averages on the cusp of a cross, but bulls still have the opportunity to avert this, by re-entering the market.
Now that inflation data has been released, will we see market uncertainty marginally reduced? Leave your thoughts in the comments below.
Image Credits: Shutterstock, Pixabay, Wiki Commons