On April 8, 2023, the number of Ordinal inscriptions surpassed the million mark as the non-fungible token (NFT) trend has seemingly become a mainstay. Presently, on Sunday, April 9, the total number of Ordinal inscriptions is 1,049,263, and so far, 169.85 bitcoins worth $4.7 million have been collected in fees.
Ordinal Inscriptions Reach 1 Million
This weekend, Ordinal inscriptions reached a milestone by surpassing the 1 million mark on Saturday, April 8, 2023. Ordinal inscriptions started to see significant demand after the mining pool Luxor mined Bitcoin block No. 774,628, which was not only close to 4 megabytes in size but also contained Ordinal inscription No. 652. Ordinal inscriptions is an idea that sprang from the mind of Casey Rodarmor, which allows users to inscribe satoshis (Bitcoin's smallest unit) with arbitrary content such as text, pictures, video, and even software.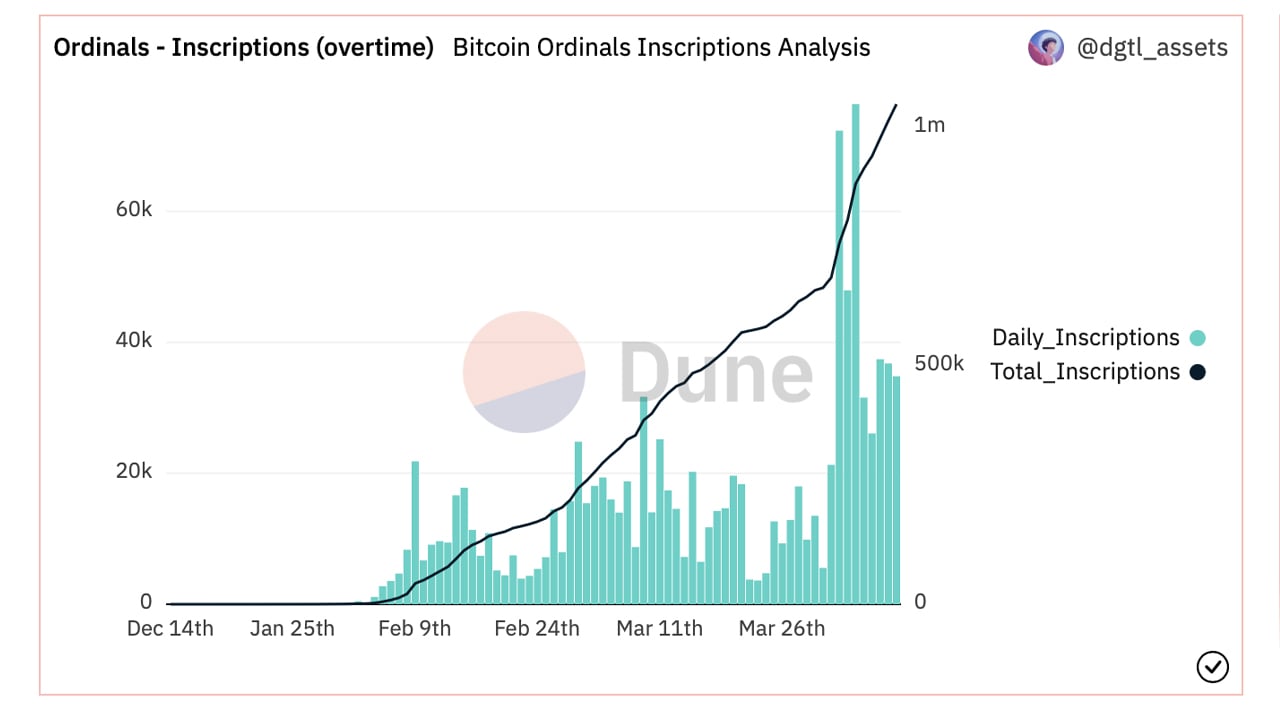 Dune Analytics metrics compiled by the user @dgtl_assets indicate that 169.85 BTC worth $4.7 million associated with Ordinal inscriptions have been collected by miners since the trend began. The same Dune user, @dgtl_assets, offers another page of analytical insights that shows the collective volume between six different Ordinal inscription marketplaces. Markets include Ordinals Market, Ordswap, Ordinals Wallet, Open Ordex, Gamma, and Magic Eden.
These six Ordinal inscription markets have seen an aggregate total volume that amounts to $19.31 million. So far, 53,124 trades have been executed by 18,462 unique traders, according to the Ordinal inscription marketplace data. Bitcoin commands a great deal of the volume, but the Ethereum blockchain is also accounted for in terms of volume. The leader in unique users by market is Ordinals Wallet, followed by Ordswap.
Meanwhile, the Ordinal inscription milestone reaching the 1 million mark comes at a time when a new way of minting arbitrary content to the Bitcoin blockchain has gained traction called Bitcoin Stamps. So far, there are only 17,293 Bitcoin Stamps on the Bitcoin network at the time of writing, but the project has continued to see increased adoption since its creator, Twitter user Mike in Space, launched the project. Furthermore, on the Litecoin blockchain, there are 224,054 Litecoin-based Ordinal inscriptions since the idea was ported over to Litecoin.
What are your thoughts on the ordinal inscription trend? Share your thoughts about this subject in the comments section below.
Image Credits: Shutterstock, Pixabay, Wiki Commons